Campus Landmarks
"Aztec" Sculpture, completed in 1937 by artist Donald Hord
The artist Donal Hord completed "Aztec" for San Diego State College in 1937. The Depression-era Works Project Administration (WPA) partially funded the sculpture, created from a single 2.5-ton block of black diorite. The stone base was presented as a gift to the school by the class of 1937. In 2002, the sculpture was moved to the Prospective Student Center. In 2009, the SDSU Alumni Association installed a large concrete replica in the rotunda of the Parma Payne Goodall Alumni Center.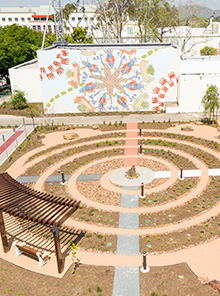 Native and Indigenous Healing Garden
The SDSU Native and Indigenous Healing Garden was renamed and reconceptualized from the proposed Aztec Garden outlined in education proposals from 2003. In recognition of our location on lands that have sustained the Kumeyaay for millennia, along with our Aztec identity and the contemporary indigenous people of the Aztec Empire who now call San Diego home, SDSU modified the plan to be a garden that represents the concepts of healing - emotionally, mentally, and physically - that derive from their cultures. The garden broke ground in Fall 2019. The opening ceremony, was postponed due to coronavirus (COVID-19) concerns.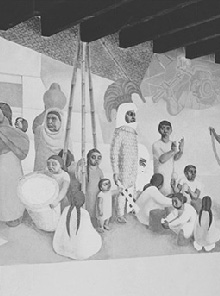 "Market" Mural, completed in 1949 by student Robert Hugenberger
"Market" is a mural depicting 23 figures at an ancient marketplace against a backdrop with images of an Aztec temple and deity. Located in the School of Exercise and Nutritional Sciences complex, it was painted in 1949 by student Robert Hugenberger under the instruction of art professor Lowell Houser. Another mural, designed and created through an Arts Alive SDSU collaborative project in Fall 2019, is painted on the west-facing wall of the Communications building and overlooks the SDSU Native and Indigenous Healing Garden. The mural captures the concepts of health, healing, the body, the mind, and the spirit among the indigenous peoples of Mesoamerica.
Nahuatl-Named Buildings Pronunciation Guides
The SDSU tradition of assigning Nahuatl names to campus residence halls and apartments continued with the opening of Huāxyacac residence hall in August 2019. Special thank you to Velma Calvario, lecturer in SDSU's College of Arts and Letters, for assistance with each pronunciation.